Unmatched in its class, the Tohatsu 9.8 hp 4-stroke has set the standard in portable outboard power! This lightweight motor weighs in at barely over the 80 lb mark and has undeniable characteristics of a true marine champion.

Our 9.8hp outboard is skinny on fuel and big on power while never compromising performance or reliability. It has a ton of features that are usually only found on larger, more expensive outboards. We pack a lot of punch for the buck in this truly unique outboard! In the 10 hp/9.9 hp category, Tohatsu has once again proven itself the leader of the pack with this 9.8 hp 4-stroke.
Tohatsu 9.8 hp 4-Stroke Benefits
Light and compact!
Designed with proven technology
Reduced vibration for smooth and stable running at all speeds
Greatly reduced induction noise for a quieter ride
Trim tab reduces steering effort, functioning also as the sacrificial anode that protects the engine from electrolysis
Ultra Low emission, EPA and CARB 3-Star rating approved
5 Year limited warranty
Easy Operation and Handling
Digital CD ignition for easier engine starting, quicker throttle response and smoother trolling
Manual choke on tiller models
Recoil starter with larger reel making manual starting fast and easy
Shallow water drive*
6 trim positions*
Adjustable steering friction for reducing steering effort*
Fundamentals for User Convenience and Reliability
Through-the-prop exhaust for a quieter ride
Thermostatically controlled cooling system for consistent engine temperature
Stainless steel water pump housing liner for outstanding durability
High grade marine aluminum alloy that provides the ultimate protection against corrosion
Zinc coating on internal water passages for superior corrosion resistance
3.1 Gallon (12 liter) fuel tank with fuel gauge
Aluminum propeller
Protection
Low oil pressure indicator
Safety lanyard (an essential protection feature standard on all Tohatsu outboards)
Start-in-gear protection for safer engine starting
Over-rev. limiter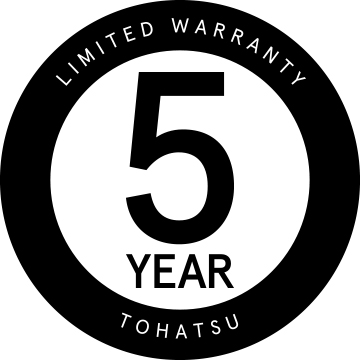 Техническая спецификация
Model /

MFS

9.8

Type

Four Stroke

Maximum output

HP (kw)

9.8 (7.2)

Maximum operating range

rpm

5000-6000

Fuel consumption at W.O.T

gal/Hr (L/Hr)

1.0 (3.8)

Number of cylinder

2

Bore x Stroke

in (mm)

2.17 x 1.73 (55 x 44)

Displacement

Cu in (cc)

12.75 (209)

Engine lubrication system

Trochoid pump

Starting system

Manual or Electric starter

Spark plug

NGK DCPR6E

Ignition timing

degree

BTDC0゜- BTDC35゜

Alternator output

Certain model : 12V 80W 6A

Engine oil

NMMA Certified FC-W® 4-Stroke Oil

Engine oil capacity

gal (L)

0.85 (0.8)

Fuel tank capacity

gal (L)

3.17 (12)

Speed control

Twist grip type or Remote control

Gear reduction ratio

2.08 (13:27)

Emission Compliance

EPA & CARB 3-Star
Specifications and descriptions are subject to change without notice.
Standard & Optional Equipments

Type

S / L / UL

EFS / L

EPS / L

Electric Starter

-

●

●

Manual Recoil Starter

●

●

●

Decompression Release

●

●

●

Engine Stop Switch Lanyard

●

●

●

Alternator

○

●

●

Rectifier

○

●

●

Power Tilt

-

-

-

Transom

15 / 20 / 25

15 / 20

15 / 20

Propeller

●

●

●

Analog Tachometer

○

○

○

Analog Trim Meter

-

-

-

Remote Control Box

-

-

●

12L Plastic Fuel Tank

●

●

●

Tool Kit

●

●

●

Emergency Starter Rope

●

●

●

Spare Spark Plugs

●

●

●

Ownersb Manual

●

●

●